Posted in Blog by Jo North
Product and Process Innovation – University of York's ERDF-funded PAPI Programme
Are you a small to medium-sized business in North Yorkshire, Leeds City Region or East Riding? Do you want to learn more about how to innovate to grow your business and stay ahead of the curve in your markets?
If so, then do come and join me and the team from the University of York on this really unique programme. It's ERDF-funded (so you won't have to pay a penny), and you will get one-to-one business support and workshops specially designed to meet the individual needs of your business.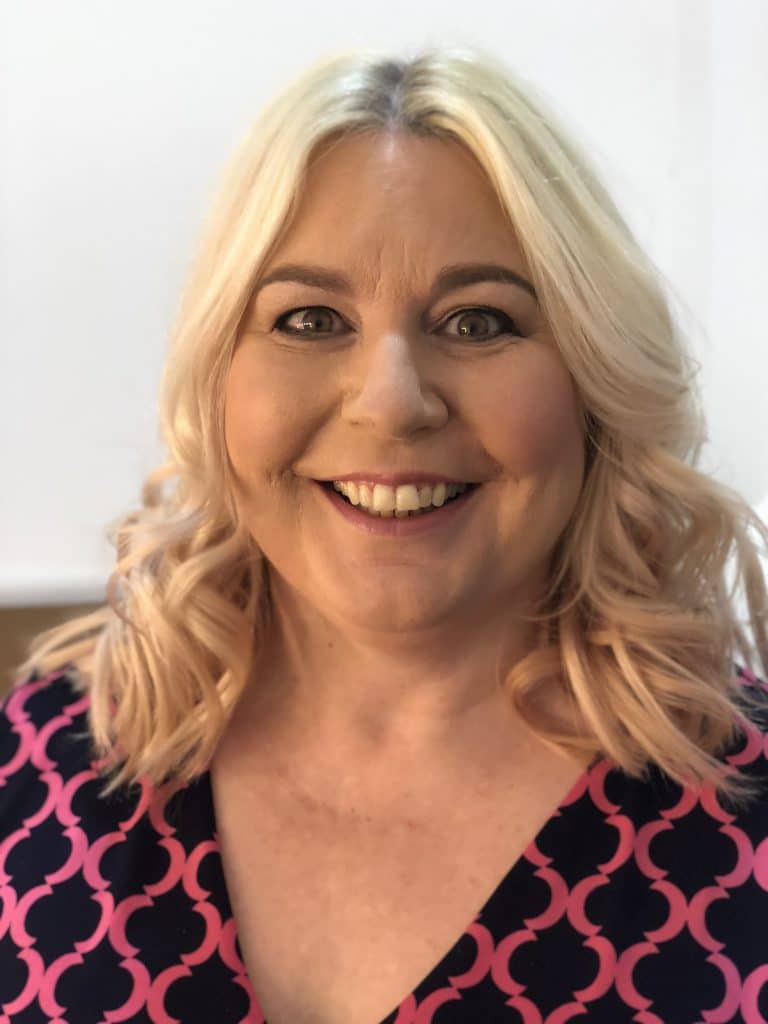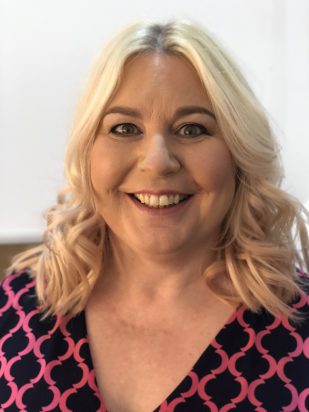 Get Future-Ready
Previous delegates on the workshop include Dragons' Den winners Tancream.
Katy Foxcroft, co-founder of Tancream said: "Jo is a great workshop facilitator creating a fun mix of activities and presentations to challenge your business and your brain."
I will work with you to help you to innovate and grow your business in 2020 and beyond, discover fresh ideas and turn innovative thinking into commercial reality.
The workshops will support you to:
Step out of the day-to-day and get a fresh perspective on your business
Be more responsive to your customers' needs
Get your products to market faster and more cost efficiently
Gain new technological insights
Take part in a supportive yet challenging, results-driven experience
Learn from other businesses and share ideas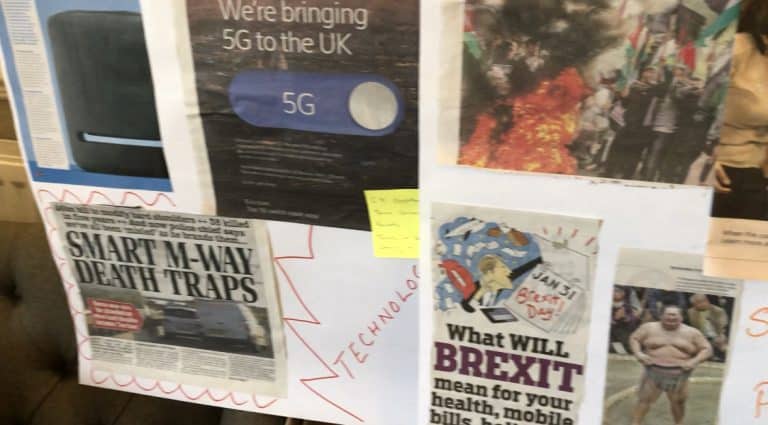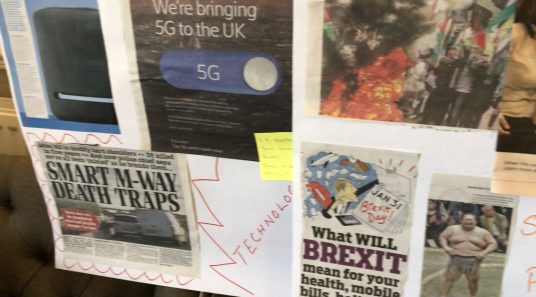 Innovation in Action Programme
The programme is jam-packed with practical tips, tools and takeaways that you can action in your business straightaway. As well as meeting other like-minded business leaders, you will benefit from some valuable time to think about your own business, reflect on your ideas and identify how you can accelerate your action plan for growth.
The workshops are delivered over 2 non-consecutive days, allowing time for the development of an innovation plan to optimise your commercial, innovative and entrepreneurial capabilities.
You'll also receive bespoke coaching from me, and I will be your trainer and mentor from start to finish, delivering tailored seminars relevant to your business.
The programme is delivered through the Product and Process Innovation (PAPI) project, which is part-funded by the European Regional Development Fund.
Behind the Scenes of Day 1
If you'd like to know more, here's a glimpse behind the scenes of some of the things that we do together on Day 1 of the Innovation in Action programme.
Agenda for Day 1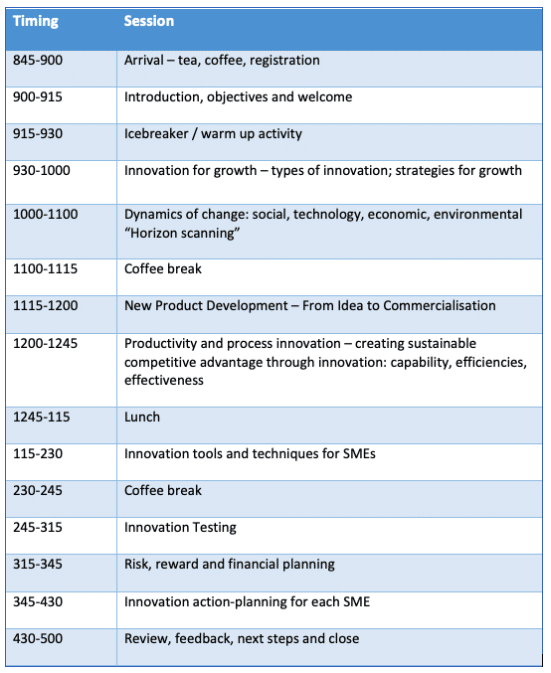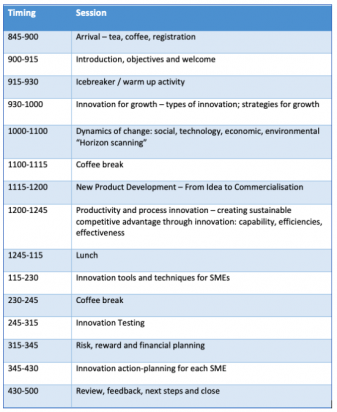 Getting to Know You
We always keep numbers small so that everyone can get the maximum personalisation and benefit from the programme. Day 1 starts with each business leader spending some time getting know their fellow delegates in a fun and enjoyable way. Discussion prompts include big ambitious business goals, key strengths and areas of expertise and programme aspirations. The businesses who attend learn so much from each other, and often form supportive networks that last well beyond the programme.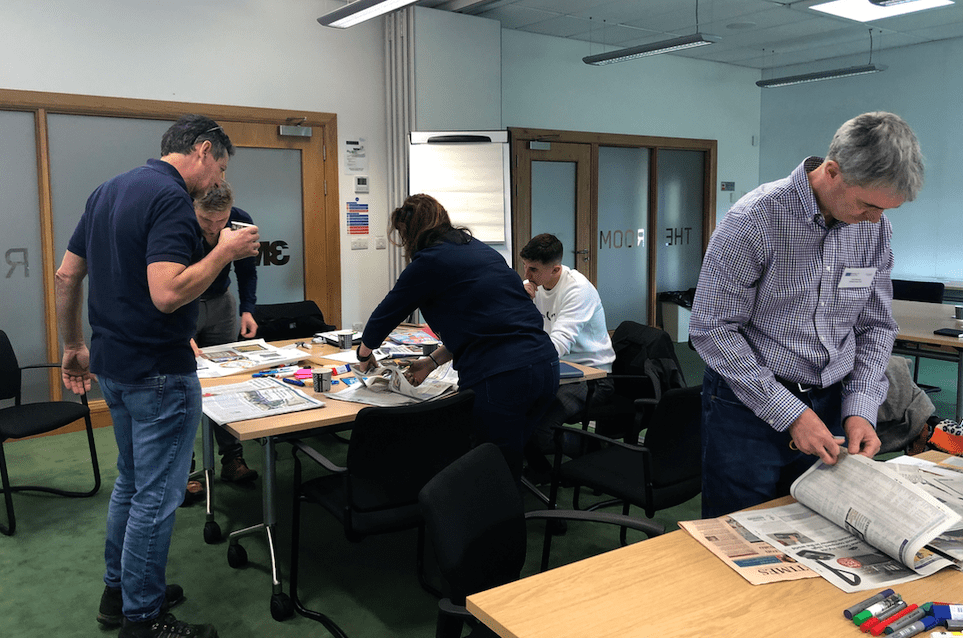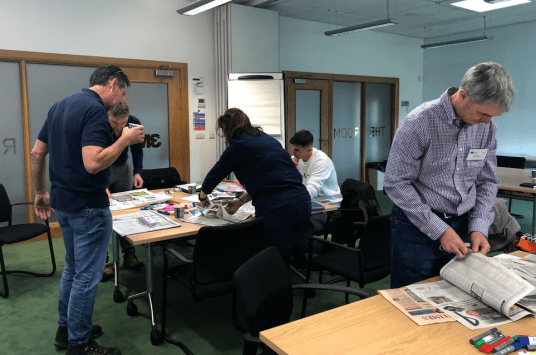 Innovation for Growth
Business innovation comes in various forms:
A product innovation is the introduction of a good or service that is new or has significantly improved characteristics or intended uses.
A process innovation refers to the implementation of a new or significantly improved production or delivery method.
Business model innovation – how the business organises its activities.
Cultural innovation – is how people are engaged and how they contribute.
Communication innovation – is how the business shares information and interacts with customers.
When you attend day 1, you'll think about how your business innovates, and have time and space to reflect on where your future innovation efforts will generate the best and most sustainable return for you.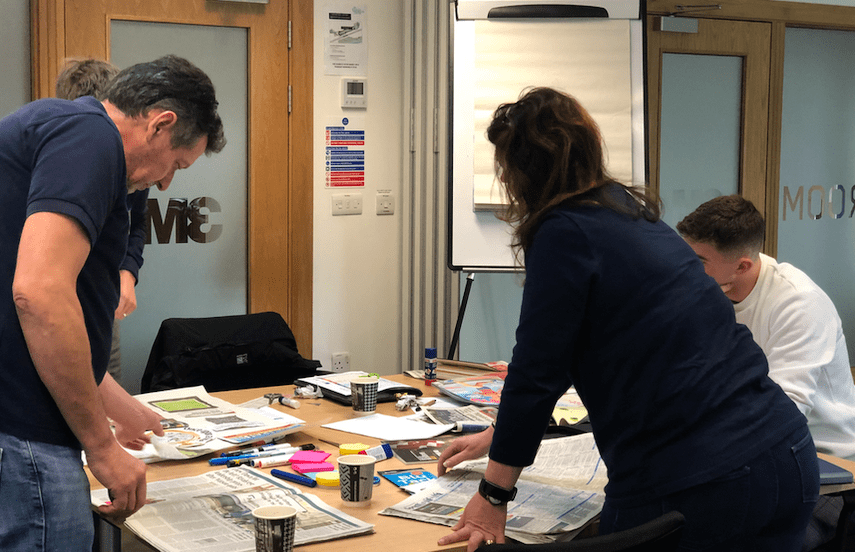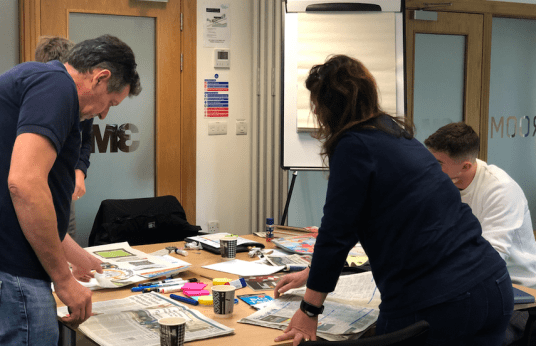 What's in the News? Trend Spotting and Shape Shifting
We use the day's newspapers and a range of magazines as the springboard for exploring how the changing social, technology, economic, environmental and political landscape is impacting businesses and the challenges and opportunities that lie ahead.
We focus on big themes such as market changes, digital development and the decarbonisation agenda, amongst others.
New Product Development – From Idea to Commercialisation
Every business leader has time to spend on working through their own innovation goals and ideas, and benefit from a toolkit of resources to analyse their competition and market space, their customer value proposition and how to create brand benefits that go beyond the functional and into the emotional and experiential.
Delegates work in pairs and threes to innovate, provide peer-to-peer support and learn from each other.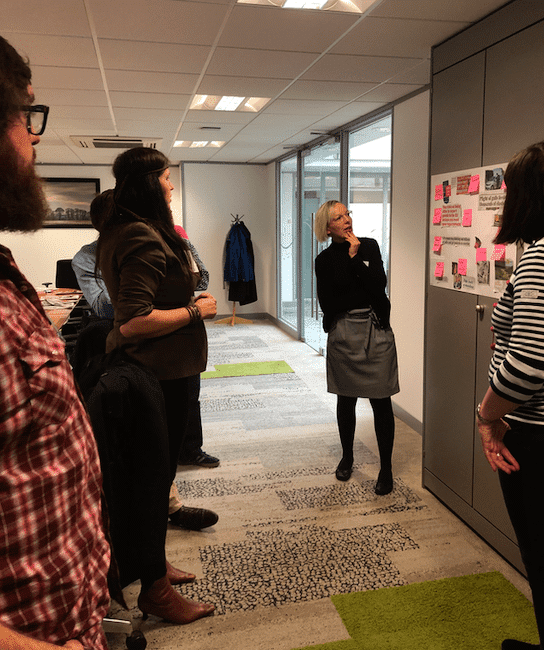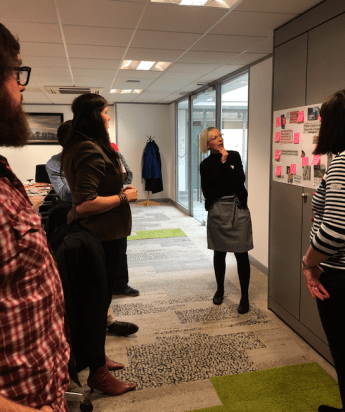 Productivity, Consistency, Efficiency
The next session is all about productivity, consistency and efficiency, centred on:
• customer journey experience mapping;
• process mapping; and
• process automation.
Action Planning
Business leaders spend some time creating an action plan to take back and innovate straightaway in their businesses before we review the day as a group. Each person shares one thing that they commit to achieving before the next full day workshop that they would either like some help with – either from me, the University of York, or fellow delegates – or that they would like to be held accountable for by their peers on the programme.
Come and Join Us!
These are just the headlines of what delegates feedback back is always a fantastic day of ideas, great thinking, connecting with like-minded and supportive new people, and insight. If you'd like to come and innovate with us, please feel free to contact me direct at jo@bigbangpartnership.co.uk, or the PAPI team at the University of York at papi-project@york.ac.uk or call 01904 328076.
Businesses are welcome to send more than one delegate, and we ask that the workshops are attended by senior decision-makers in the business.
You can see the upcoming dates and venues here for North Yorkshire and East Riding businesses and Leeds City Region businesses, along with the eligibility criteria and full details.

Hope to see you there!